Geïnspireerd door onze campagne, heeft een van onze Engelse volgers haar verhaal ingestuurd. Hoewel zij geen adoptant van ons is, delen wij graag haar verhaal!
For the Strays – Paws of Greece voert campagne om de misstanden, de vooroordelen zogezegd, over Griekse Herder mixen te ontkrachten.
Hoewel wij altijd 'voorlichten' over het sterke en zelfstandige karakter van de Griekse Herder mix, is het echt een fantastische huisgenoot. We zullen af en toe een adoptant van een Griekse Herder mix aan het woord laten en in deel III is dat Mandy, trotse adoptant van Megali, wat 'ENORM' betekent.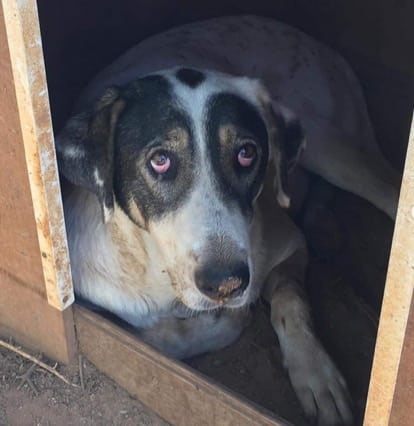 "Meet Megali, a.k.a. Gali, Galimoo, Ladybug and a variety of other nicknames which are probably way beneath her dignity, but she still answers to them, especially if there's food or some love and fuss involved!
Gali is a Greek Shepherd mix. We adopted her nearly four years ago from an amazing shelter in Greece. She was around 7 then, so is now around 11. She had been a stray on the streets for around 2 years and then in the shelter for 5 years.
Sadly, many people seem to believe that Greek Shepherds aren't family dogs or aren't suitable for small homes, so these beautiful dogs are frequently over-looked for adoption. In our experience, this perception simply isn't true! Gali is a gentle giant. She is the softest, most intelligent, beautiful and loyal dog – and I've owned collies most of my life, so know all about intelligence and loyalty. Yes, she's big – around 45kg – with a large, proud head, broad chest and a gorgeous fluffy rough – and she is strong, but she walks like an angel on the lead, always well-mannered and calm. Greek Shepherds don't automatically need a big house, or lots of land – we live in a smallish bungalow with an average-sized garden and she's super-happy and chilled just pottering around, sniffing and snoozing. Gali does like a snooze on a comfy sofa or bed – she's not too choosy! She does love a nice bit of soft soil to dig in and chill – so she has her own sandpit to save our flowerbeds!
Cost-wise, she doesn't really cost significantly more than our collies did to feed and insure. Vet bills are around the same amount, too.
She does have a stubborn streak – or let's call it 'independent thinking', which probably comes from looking after herself on the streets for so long. When she first arrived, we expected it to take her a while to get used to living in a house; we thought she would perhaps need some 'toilet training' and might be over-protective of her food – not a bit of it! From the hour she arrived, she went in the garden when she needed to go, took her food gently from us – in fact she still prefers to have someone actually sit with her whilst she eats – and took everything in the house, from the TV to the washing machine, in her stride. She never, ever snatches food and will wait, eyes fixed on her prize, until she's allowed to have the treat.
She, like many dogs, does not like thunder, lightning or fireworks, but she's quite happy with some calming music and a cuddle to get through any of those. She likes her walks, but doesn't need a vast amount of exercise, just gently plodding along beside us, enjoying sniffs and an occasional 'hello' with another dog. She likes cats – having shared her food with them on the streets, according to the lady who eventually rescued her – and they like her, too. She looks intimidating, because of her size and her deep bark, so she is a good guard dog, from that point of view, but is such a big softy in reality. She's a little shy when she first meets new people, but once she knows someone, she's always so excited to see them and greets people she loves with a massively wagging giant tail and her signature grunts and squeaks that she uses to say 'hello, have you brought me any treats?'. She is the most expressive dog I think I've ever met!
To anyone who may be thinking about adopting a Greek Shepherd breed, just do it! They will pay you back a hundred-fold for any kindness and love you give to them. They are loyal, trustworthy, proud, calm, intelligent and often hilariously goofy! Obviously, I can only speak of Megali (known as 'Big Happy' to her rescuers) and I think she is just the most special dog in the world, but having spoken to a number of other Greek Shepherd owners, these traits seem to be common in our lovely mixes. The best thing we ever did was adopt Gali. Don't overlook these wonderful dogs, give them a chance for a happy home, too!"